Winter has arrived friends! The midwest has seen a mild winter which has been very nice, but also very weird. It's nice to see a blanket of snow outside. It feels normal. It feels like I can finally break out my favorite cold weather recipes.
Though I've spent most of my career baking, cooking is a true passion of mine. I hope to share with you my favorite recipes that will fill your belly and your soul.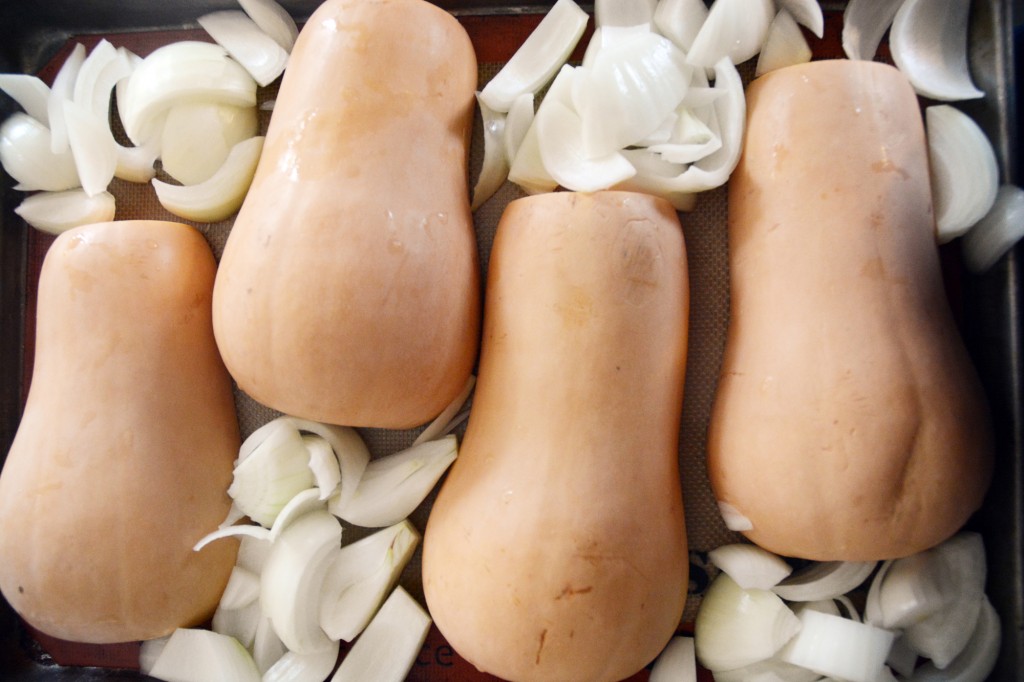 I always think of my wildly talented friend Melissa Keeley of Telltale Photography when I make this soup. She made it for our book club, Prose & Pinot, the first night I attended. We sat around her beautiful table in her cozy dining room enjoying this absolutely delicious soup on a cold January evening. And there was a lot of wine. I think it was the most wine our book club had ever consumed. None of us had children yet. Maybe that was why. Or maybe we were just really thirsty? Either way, it was one of the best nights I'd had meeting new women who are now my closest friends and I look forward to spending hours with them each month.
What makes this soup special, in my opinion, is that it is first of all delicious, and second very easy. A winning combination. As another bonus it is dairy and gluten-free. Charlotte adores it, too. Just like her Mamma. P.S.-Don't skip the sage. It's a delicious addition.
Print
Butternut Squash Soup
2

small butternut squash

6

unpeeled garlic cloves

2

sweet onions, peeled and quartered

3 cups

apple juice or stock

1/2

t dried thyme

1/4

t ground or freshly grated nutmeg
salt and pepper to taste
olive oil
fresh sage leaves
Instructions
Preheat oven to 400°F.
Cut squash in half and scoop out seeds with a spoon.
Lay each half cut side down on a baking sheet.
Nestle the unpeeled garlic inside the cavities of the squash.
Scatter onions throughout the pan.
Drizzle with olive oil.
Roast for approximately 45-60 minutes until squash is fork tender and caramelized.
When squash is cool remove pulp and add to a soup pot. Discard skins.
Squeeze garlic out of its skin and into pot.
Add onions to the pot.
Add thyme, nutmeg, salt and pepper to taste and apple juice or stock.
Blend until smooth.
Heat on low heat.
Heat olive oil in pan over medium high heat. Add sage and sauté until leaves are crisp.
Serve soup garnished with sautéed sage.
Notes
For a sweeter soup use mostly or all apple juice. This is where you can really play with the flavor and find a ratio that works for you.
It's also delicious topped with freshly grated parmesan cheese.
Bon appétit friends!