Well, we did it! We went to Florida, our first big vacation as a family of three. Not only did we go, but we survived and thrived! We are incredibly blessed with quite possibly the happiest baby in the world, so that helped tremendously. Thank you Charlotte!
Since this was our first time traveling so far away from home, and she is our first child, we went in to this blind. I did the best I could to prepare for the unexpected and took notes on the things I wish I would have known. I hope you'll find them useful!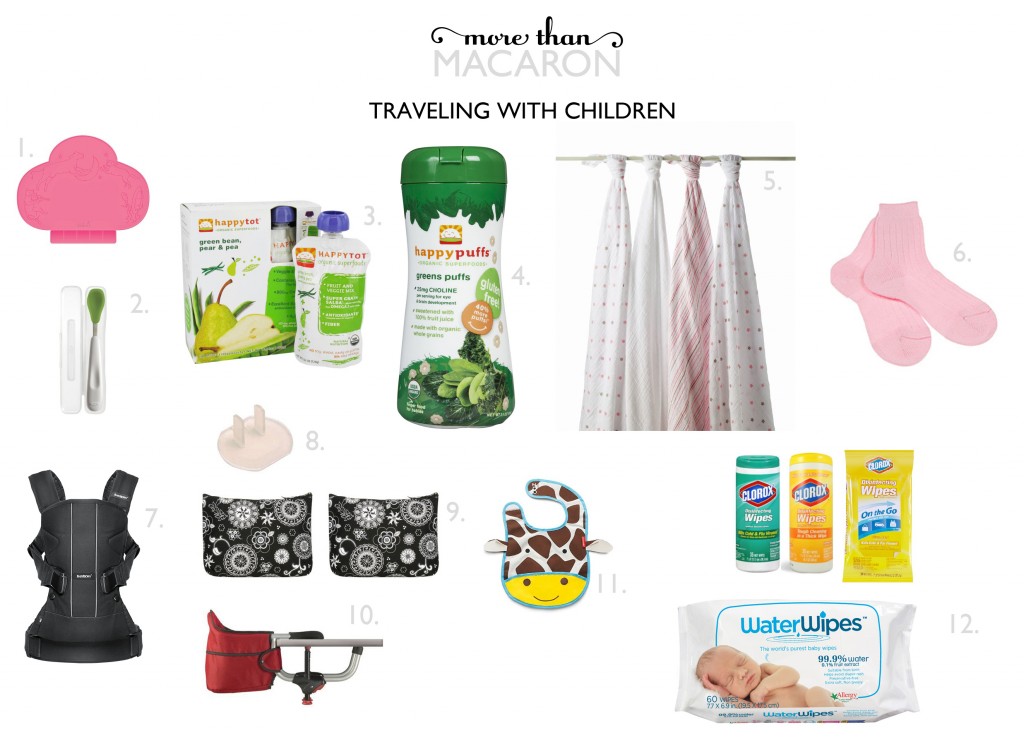 1. REUSABLE PLACEMAT
This placemat has been wonderful to us! While traveling and when we go out to dinner in town. Rolls up and fits in the diaper bag neatly.
2. TRAVEL SPOON
Love, love, love this spoon! It's shape is perfect for feeding and the carrying case is exactly what you need for travel and every day on the go.
3. & 4. PUFFS & FOOD POUCHES
I was a little late to the food pouches game. But better to be tardy than to never have arrived at all! These are a lifesaver. Charlotte absolutely loves them and so do we. And Charlotte might be a puffaholic. She loves those things. On a long plane ride or in the middle of Disney World you'll be so glad you have them on hand!
5. LIGHTWEIGHT BLANKET
The Aden and Anais swaddle blankets are absolutely perfect for covering the carseat and stroller, as well as covering up on the airplane. They're lightweight and do not take up much space. We used ours daily, especially while we were at Disney World.
6. SOCKS
This is a tip for people of all ages. Pack some socks in your carry on. I always forget and awkwardly tip toe through security in my bare feet. It's just disgusting.
7. BABY CARRIER
We're so thankful for our Baby Bjourn Carrier One. It's an absolute must when traveling with a young child through an airport. On a side note, you can carry your baby through security attached to you, there is no need to take the child out of the carrier. Nice little bonus!
8. OUTLET PLUGS
We rented a house for part of our trip and while our house is baby proofed this house was not. Outlet plugs seriously cost a couple bucks, I wish I would have brought some along and left for the next house guest with children. Charlotte is so dang curious.
9. ORGANIZING POUCHES
I'm on the hunt for some amazing organizing pouches. I have a hunch these little bags from thirty-one will work perfectly for organizing all of Charlotte's little necessities. While I love my Kate Spade stevie diaper bag I do not love it's lack of pockets and organization. I don't have time to search, swear, and sweat over finding a spoon. Next trip I will have little bags for food, diaper changes, toys, etc. Then I can say, "Quick, hand me the little blue bag!" Genius.
10. HOOK ON HIGH CHAIR
We absolutely love our Chicco hook on high chair! Restaurants, a friend's home, anywhere you need a high chair it's there. And it's clean. Well, mostly clean. Your own germs at least!
11. TRAVEL BIB
This little Skip Hop bib folds up into it's own pouch! It rinses and dries quickly and is super small when tucked away in your diaper bag.
12. SANITIZING WIPES & HAND SANITIZER
This goes without saying, but I'm so thankful we had the wipes to use on the plane and in the hotel room. Charlotte was 100% healthy throughout our entire trip and I'm sure wiping down the airplane window with a chlorox wipe saved her. Did you know babies like to press their entire face against the window? I suppose you're never too young for that!
Happy and safe travels to you! Have a tip you want to share? Please let us know!