Happy New Year! We hope that the holidays have been good to you and your family and you've begun this new year with full and happy hearts.
Our family has decided to follow a Paleo diet this year after a four year hiatus. Yes. Four years! While we will not follow it 100% (I still need to eat my macarons!) we hope to make a pretty good go of it! We enjoyed the health benefits and mindfulness of eating well. Let's face it, don't we all just eat way too much bread and pasta? I hope to share with you many recipes over the coming months to make healthy eating easier and delicious.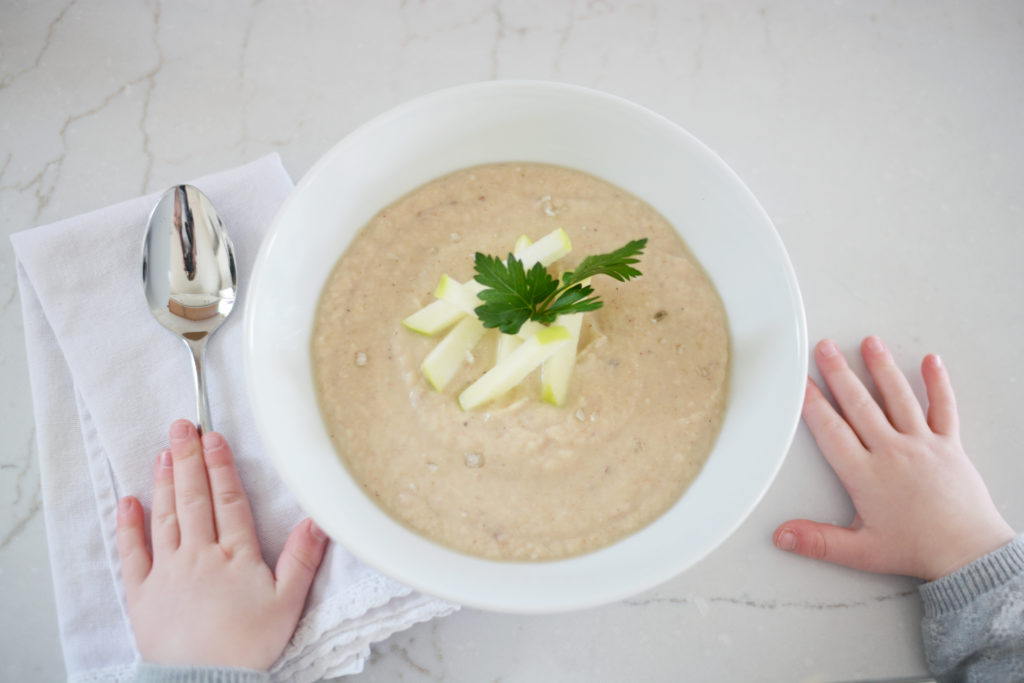 One recipe we love is this soup. Who doesn't love garlic and bacon? Charlotte devoured it last night, so you know it's amazing! It's the perfect comfort during these brutally cold winter days. We hope you give it a try and enjoy it, too!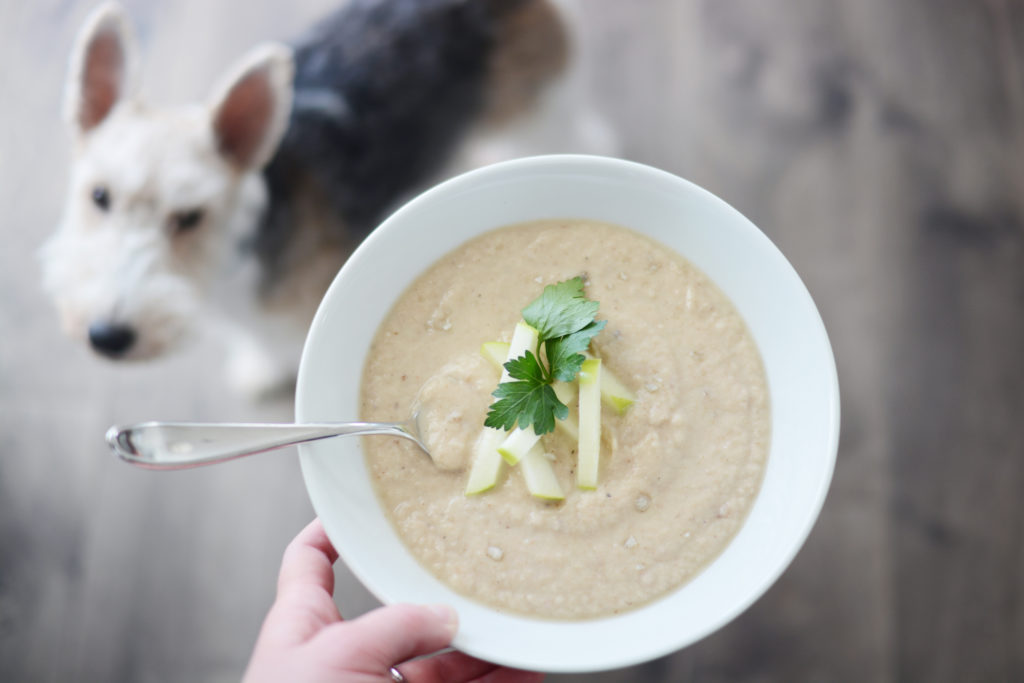 Print
Roasted Garlic, Cauliflower & Bacon Soup
3

large garlic cloves

1 teaspoon

olive oil

1

shallot, peeled and sliced

1

head cauliflower, cored and roughly chopped
kosher salt and pepper to taste

4

pieces of thick bacon, chopped

4 cups

chicken stock

1 cup

water
granny smith apple slices for garnish
parsley, chives, or thyme for garnish
Instructions
Preheat the oven to 400 degrees. Place garlic cloves in aluminum foil and drizzle with olive oil. Fold into a small packet. Roast in the oven for about 20 minutes until garlic is soft. Remove and set aside. When it's cool enough to handle, squeeze the garlic cloves
Saute chopped bacon in a soup pot or dutch oven over medium-high heat until fully cooked and crisp. Remove the bacon and discard all but 2 tablespoons of the bacon grease. Add the shallot and saute in the remaining bacon grease. Remove after softened and slightly browned. Finally add the cauliflower and cook until it has browned slightly and is softened.
Add the bacon, shallot and garlic (squeeze to remove from skin) to the cauliflower and add the chicken broth and water. Cover and bring to a boil. Reduce heat to a simmer and cook for 20-30 minutes. Puree using a blender or an immersion blender. Salt and pepper to taste. Serve warm with apple slices and fresh herbs if desired.