Nothing is better in the winter than homemade chicken soup, especially in the midwest. Snow storm coming? Make some chicken soup! A cold settling in? More chicken soup! My newest reason for making a batch of chicken soup is Charlotte. Carrots that have been cooking in broth all day are the perfect texture for a baby with only two teeth! In all seriousness it's the perfect meal for a little one and it makes so much you'll have food for your child for days and days!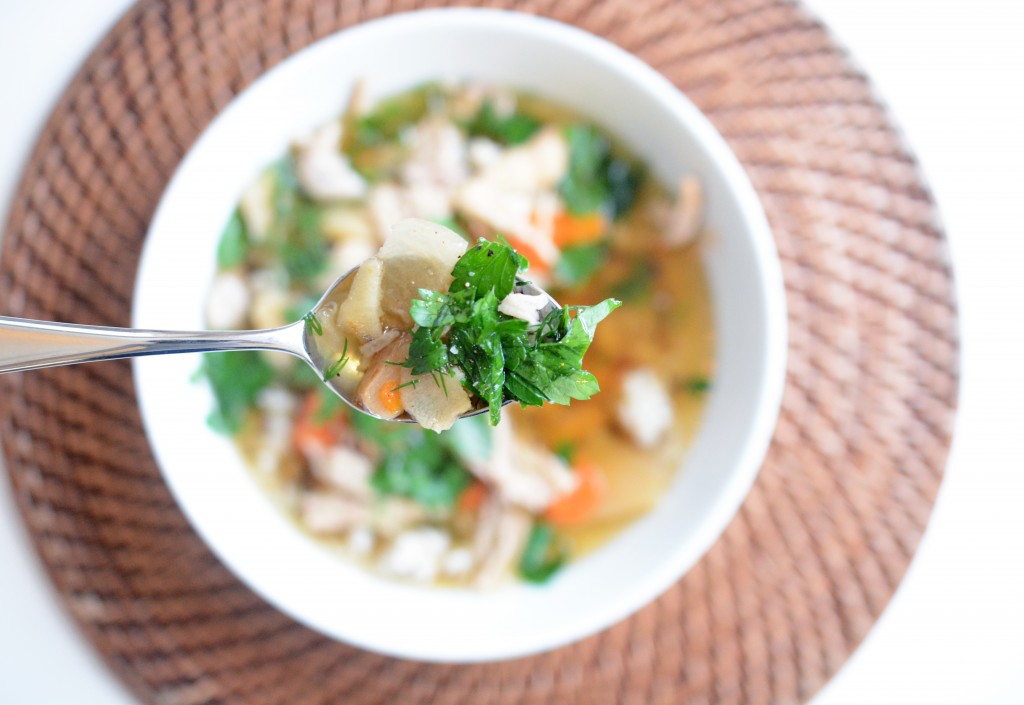 I've played around with many different recipes but the truth is you cannot mess up chicken broth. It's very forgiving and you can add nearly anything to it. Use your creativity! I grew up adding bay leaves, allspice and cloves. Recently I stumbled upon an Ina Garten recipe that totally omits dried spices and I'm hooked on it. Let me tell you the secret. Dill. I was transported back to my childhood when I tasted my chicken soup with dill in it. I had completely forgotten that my Grandma would add fresh dill and parsley to our soup. The parsley I remember. She would give us a cup filled with parsley and scissors and we'd sit in the living room watching TV and "chopping" parsley for our soup. But I forgot about the dill! It's so delicious and now I cannot have my chicken soup without fresh dill and parsley. Thank you Ina for making me remember.
Please view this recipe as a guide. I do not use measurements for chicken soup and I encourage you to embrace your creativity and cook based on feeling. I love carrots in my soup, so I use a lot of carrots so I have extra. Plus even more for Charlotte to eat! If you hate carrots, well, don't use so many! But who hates carrots?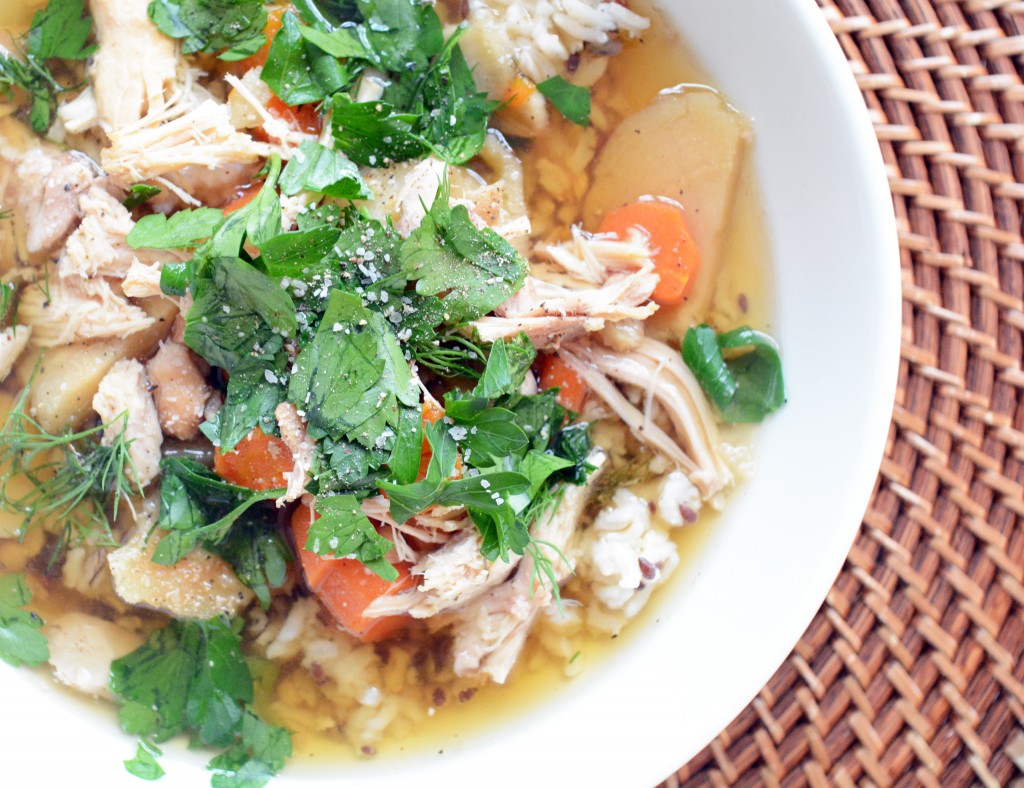 Homemade Chicken Soup
Chicken thighs with skin, approximately 2 pounds
Carrots, approximately 8-10
Parsnips, approximately 2-3
Onion, 2-3
Celery, 1-2 stalks
Fresh dill
Fresh flat leaf parsley
Salt
Pepper
Water, approximately 4 quarts
Instructions
Place the chicken, carrots, parsnips, onions, celery, a handful of dill and parsley in a large pot, I use a 5 1/2 quart Le Creuset.
Fill with as much water as your pot will allow, approximately 4 quarts.
Add salt and pepper.
Bring to a boil.
Cover and reduce to a simmer and simmer for a minimum of 4 hours.
Skim fat from surface if needed.
Remove solids and discard onions and celery.
Chop carrots and parsnips.
Clean chicken and reserve the cleaned meat.
Serve with carrots, parsnips, chicken, broth, cooked rice or noodles and top with fresh dill and parsley and salt and pepper to taste.