Chicken & Rice Soup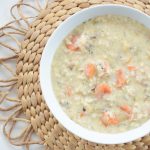 Inspired by the chicken and rice soup served at Panera Bread.
Scale
Ingredients
1 large onion, diced
6 carrots, diced
2 stalks of celery, diced
2 parsnips, diced (optional)
1 teaspoon dried thyme
salt & pepper to taste
1 pound chicken thighs
1 quart chicken stock or broth
one box of Uncle Ben's original long grain rice
1/2 cup of rice (your choice of type)
2 cups whole milk
1 cup heavy cream
In a 5 1/2 quart dutch oven (or equivalent) combine the onions, carrots, celery, parsnips, thyme, chicken and stock. Fill the rest of the pot with water leaving about an inch of space at the top. Season heavily with salt and pepper. Bring to a boil then cover and simmer on low for several hours, the longer the better. Aim for at least 4 hours.
Remove chicken from the pot and shred into small pieces discarding any fat and/or bones. Add the chicken back to the pot. Add rice, Uncle Ben's rice and the seasoning packet to the pot. Simmer for 25 minutes to cook the rice.
Finally add milk and cream. Add salt and pepper as needed.
Serve hot.